W.O.E. "Women of Excellence"

Brunch Boots & Blessings Next Event 10.28.23
Our next event is right around the corner. Mark your calendars for Saturday, October 28th at 12 noon. It's the Brunch, Boots, and Blessings Bruncheon which will be held at Buffalo Soldiers National Museum 3816 Caroline St. Houston, TX. 77004.
Early General Admission Tickets $45 per person (Registration ends September 30th)
Regular General Admission Tickets $50 per person (Registration ends October 14th)
Tables of 10 Early Admission Discount $400 (Registration ends October 7th) BEST DEAL !!!!!

For more information, please call 281-260-8841 or email us at
Guest Host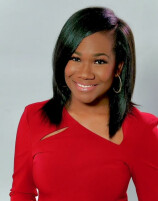 Samica Knight
Samica Knight is an award winning journalist who is living her lifelong dream. She is a native Houstonian and feels blessed to be back in her hometown but also back at KTRK, the station where she interned.

Samica comes to KTRK from Harrisburg, Pennsylvania were she was a general assignments reporter and fill-in anchor at WHP-TV. Prior to working in Pennsylvania, she spent time at KXXV in Waco. During her stay there, she covered everything from President George W. Bush at his Crawford Ranch to high profile courts-martial cases on Fort Hood.

She has received awards from The Associated Press and the Pennsylvania Association of Broadcasters. She was recognized for a story she investigated about a Pennsylvania company that took thousands of dollars from employees for health insurance that did not exist. Her investigation led to the introduction of state legislation.

Samica graduated magna cum laude from the University of Houston with a Bachelor of Arts Degree in Broadcast Journalism. She is also a graduate of the U of H Program for Excellence in Selling, one of the top sales training programs in the country.

Samica is an alumnus of Houston's High School for the Performing and Visual Arts and the Houston Children's Chorus. In her spare time she enjoys singing, an art that has taken her to the stage of Carnegie Hall and to the cities of Shenzen, Shanghai and Beijing, China.

Samica is active in her church and works diligently as a volunteer in her community. She is thrilled that she now has a chance to spend more time with her family, including her dogs.
Guest Speaker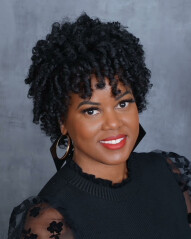 Tyisha Davis
Tyisha Davis is a certified PMHNP (Psychiatric Mental Health Nurse Practitioner). She earned a Master of Science in Nursing from Walden University in Minneapolis, Minnesota, in 2020. Ms. Tyisha earned a bachelor's degree in nursing from Coppin State University's Helene Fuld School of Nursing in Baltimore, Maryland, in 2007.
As a psychiatric nurse practitioner , she possesses a diverse set of skills and abilities that benefit her patients, ranging from ages 18 to 62 years old, including extensive clinical experience, a thorough understanding of telehealth visits, excellent leadership and supervision qualities, the ability to make effective clinical judgments, and an understanding of various addictions.
Tyisha provides compassionate and patient centered care to a diverse patient population. She understands that each patient's situation is unique, thus she individualizes her consultations and treatment options to address those needs and concerns.
In her free time, Tyisha enjoys spending time with family and friends.
Guest Speaker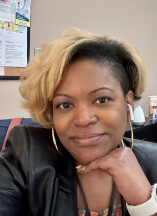 Kimberly Galloway
Kimberly Galloway is the Clinical Care Coordinator for FOCUS Youth, a juvenile diversion program, at Fort Bend County Behavioral Health Services. Kim grew up in the Fort Bend County area, including Missouri City and Richmond, TX with her mom, dad, and 3 older brothers. She graduated from Kempner High School in Sugar Land in 1996 and is a first-generation graduate from University of Houston, earning her Bachelor of Science in Psychology in 2003.
Kim has nearly 20 years of experience working in the mental health field that includes working with the Department of Family and Protective Services, children in foster care, developmentally disabled adults, and adolescents and adults with mental health disorders. She has a passion for providing adolescents with the tools they need to be successful and has a unique and special way of connecting with the youth and their families. Sharing similar backgrounds with the families she serves has resulted in her being more empathetic and gaining trust with vulnerable populations.
Kim has 2 daughters, ages 18 and 12, with one being a college freshman and the other in the 6th grade. When not working, Kimenjoys traveling with her 2 daughters, spending time with family and friends, enjoying self-care activities, and streaming!
Guest Speaker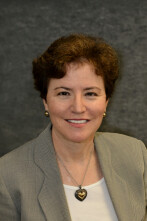 Elizabeth Bonefas, M.D., FACS
Dr. Bonefas is an assistant professor at Baylor College of Medicine who specializes in the treatment of
diseases of the breast. This includes patients with breast cancer and benign breast disease. She provides
state-of-the-art surgical care and participates in all aspects of the multidisciplinary care planning for
patients with breast cancer. She works closely with the Plastic Surgery group at Baylor to provide options
for reconstruction after breast surgery. She is certified by the American Board of Surgery and is a Fellow
of the American College of Surgeons, the American Society of Breast Surgeons, the American College of
Surgeons - South Texas Chapter, the Houston Surgical Society, the Texas Medical Association, and the
Harris County Medical Society. She has received honors from the Press Ganey Award for Parent
Satisfaction, Baylor College of Medicine in 2022, also Physician of the Year at St. Joseph Medical Center
in 2006, also Teaching Award-St Joseph Hospital Residency Program in 2002, also Outstanding Resident -
St Joseph Hospital Surgical Residency in 1985 & 1987 and Intern of the Year-St Joseph Hospital Surgical
Residency Program in 1984-1985. She has been published in several publicans.
Guest Speaker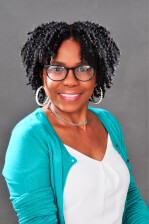 JESSICA C. HENDERSON
Breast Cancer Survivor

In April of 2021 I was diagnosed with breast cancer, and I
found myself on the outside of my own life looking in. It was
a moment where the life that I was living did not seem to
be my own and what I knew to be my life quickly ebbed
away from me like a wave on a tormented seashore. What
I did not know then was that this transformative event was
a milestone that would bring drastic meaning to the dash
that would one day sit between the date of my birth and
death on the tombstone of my life.
To capsulize my life into words that describe who I am,
where I lived or what was my occupation before, during and
after this moment would minimize the purpose for which I believe that my life was spared.
I now know, with extreme clarity, that I am here to encourage and remind anyone who is
going through any circumstance of any magnitude that the Lord, Jesus Christ, is all that
you will ever need, He is the Word of God and the Light of Life; He IS the Great I AM...this
is my clarion call.
The Word of the Lord says that we overcome by the blood of the Lamb and the word
of our testimony. When I look in the mirror today, the face that is reflected back at me
is unfamiliar, not simply because I have physically changed, but because I have been
spiritually transformed. I can confidently say that I have walked through the valley of the
shadow of death, and it did not overcome me, for the Lord, my God, was with me.
As cancer survivor I have, within the core of my being, a duty that compels me to share my
story without fear because not one moment of it was in vain. With every opportunity that I
am given to share what I have lived and experienced, I will boldly share every detail with a
hope and an expectation that my openness and transparency will give someone else the
courage to fight the fight against this dreadful disease with audacity and determination
—knowing that even if you are hard pressed on every side, you will not be crushed, in
despair, abandoned or destroyed, for you are NOT alone.
The goal is to not lose heart and to take confidence in knowing that you will get through
this. You will get through the chemo, the hair loss, the surgeries, the exhaustion, the
loneliness and the fear. You will get through this and come out on the other side, not as
just a survivor but as a Thriver, whole and complete, lacking nothing.
"And after you have suffered a little while, the God of all grace [Who imparts
all blessing and favor], Who has called you to His [own] eternal glory in Christ
Jesus, will Himself complete and make you what you ought to be, establish
and ground you securely, and strengthen, and settle you."
1 Peter 5:10 AMP
P.O. Box 570491 | Houston, TX 77257 ● (340) 643-6336 ●
Guest Speaker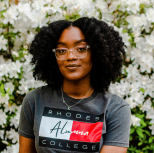 Mi'Destini Victorian
Mi'Destini Victorian is a first-generation, class of 2022 graduate of Rhodes College with a
degree in Psychology. During her time there, she served the community in various ways, among
the most invaluable being a Bonner Scholar, president of the Black Student Association, and a
Fall 2020 initiate of Delta Sigma Theta Sorority, Incorporated.
She is also the founder of Ethereal Apparel—a brand presenting affirmations, apparel, and social
media content to remind followers of their heavenly, spiritual, beautiful, lovely, and divine
nature. This brand was birthed from her own experiences with mental health struggles and a
search for confidence in her identity as a unique young woman of Christ.
Mi'Destini prides herself on constantly being in bloom, and she hopes that the words and
experiences shared with this world will shine even the smallest light to keep others going and
know that there is purpose in it all. Much of this pouring out occurs by way of the 4th grade
English Language Arts and Social Studies classroom as Mi'Destini is currently in her second
year of molding, mentoring, and motivating young minds as an educator.
Guest Speaker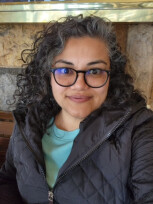 Erica Figueroa
Erica's career has been centered around giving a voice to vulnerable populations. Prior to joining Texas Children's Hospital in August 2016, Erica held various roles at the Department of Family and Protective Services in her 15 years of service.
A graduate of the University of Houston, Erica holds a Masters of Social Work with a concentration in children and families. During Erica's graduate education, she worked alongside families as a field investigator, Family Based Services Specialist and Conservatorship worker. She also served as a volunteer to several community organizations such as Houston's Food Bank, Baker Ripley and Bo's Place.
Erica received her Bachelors in Social Work at Our Lady of the Lake University in San Antonio. Erica was born and raised in Houston. Daughter of Mexican immigrants and the oldest of six children, Erica is a first generation college student and proud to have set the expectation that education is key. Erica uses her present role as Manager of the Social Work Department at Texas Children's Hospital along with her positive attitude and tireless energy to encourage others to work hard and be devoted to helping vulnerable people work through challenges they face in everyday life, including improving their overall wellbeing and mental health. Erica is inspired daily by her lived experiences, her mother, husband and their three children. In her free time, Erica likes to spend time with her family, listen to music and identify opportunities for personal growth and learning, because "we must become the change we want to see".
____________________________________________________________________________________________________
Women of Excellence
Please accept our invitation and join us as we create a platform for women of all cultures, professions, communities and backgrounds to gather as we continue to become aware of two very important topics; mental health awareness and breast cancer awareness. Brunch, Boots, and Blessings was birthed out of the vision to create a community for women to embrace their purpose, strengths, and power through being transparent, open and honest about their journey. We don't have to look like what we're going through or what we've been through but when we reach those valley moments it's okay to be honest about them.
• Our vision is for you to attend and be strengthened and empowered by a community of women that are living and experiencing the same life's journey as you, yet too often are afraid to admit it.
• Our vision is for you to attend and be an ACTIVE participant. Being actively involved in a gathering such as Brunch, Boots and Blessings gives every participant the opportunity to take home essential tools and skills to live their everyday lives to its fullest potential.
• Our vision is for you to attend and begin starting the necessary conversations about mental health, understand the signs and symptoms for earlier identification of those facing a mental health condition, removing barriers to mental health services and supports, and advocating for appropriate treatment options and not criminalizing those living with mental health conditions. The vision is to also normalize and destigmatize conversations about mental health.
• Our vision is for you to attend and also begin starting the necessary conversations about breast cancer, understanding the signs and symptoms for early detection for women of all ages, and to not be afraid to seek the necessary support when there is a detection of cancer.
• Our vision is for you to attend and be ready to showcase your most stylish and fabulous boots as a representation of STRENGTH.
Our boots represent that no matter what room we step into we are powerful, we are strong and we are a living example of the answered prayers we've prayed for ourselves
Committee Members:
Sheneil Taylor
Lynette Alexander
Tynika Brown
Yolanda Sheppard
Deirdre Moore
Betty Roberson
Jocelyn Brigman
Tara Manning
Rachel Littleton
Beverly Gordon
Melissa Hicks
Carlishia Johnson
Emleigh Mitchell
LaTonya Carrington